Daisy Murphy Matthews
(Daisy Murphy)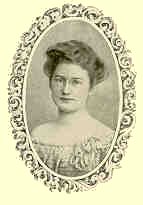 ENGLISH-GERMAN-SOCIOLOGY
Prepared at Girls' Latin School of Baltimore.

Letters
May 24, 1921
February 6, 1928
March 10, 1931
July 18, 1936

Photographs
Champion Athlete
Basketball Team - bottom right (232 KB)

1904 Program:

Teaching in private school at Mt. Airy, Md., 1903-.
Present address: Mt. Airy, Md.
November 1905 Kalends:
Daisy Murphy is teaching in the Phelps School, Wallingsford, Connecticut.
March 1911 Kalends:

Daisy Murphy was married last summer to Mr. William Wallace Matthews of Great Neck, Long Island, New York.
October 1929 Alumnae Quarterly:

Daisy Murphy Matthews is a committee chairman of the Woman's Club, Great Neck, Long Island, New York.
July 1930 Alumnae Quarterly:

Daisy Murphy Matthews returned for the first time in 27 years. She enjoyed it so thoroughly she is planning to attend all reunions hereafter. To hold her to this promise, she was elected to represent 1903 on the Alumnae Fund Board.
July 1932 Alumnae Quarterly:

Daisy Murphy Matthews is to be congratulated on her splendid work as 1903's Alumnae Fund Representative this past year. She was able to attend the annual meeting on Saturday morning at Commencement time, but could not attend the later festivities.
May 1939 Alumnae Quarterly

Millie Benson Bielaski and Daisy Murphy Matthews were two of the hostesses who helped to arrange a luncheon and tea for the Long Island Goucher Club on March 23. The luncheon was in honor of Dr. Robertson, who spoke on "The Goucher Way" later at the tea, where Goucher alumnae, prospective students and their mothers were present. The party was held at the Woman's Club in Great Neck, Long Island. Daisy Murphy Matthews, in a letter to Esther Bixler, gives the following description of the New York World's Fair:
"You have asked me to write something about the New York World's Fair or as it is so often called, 'The World of Tomorrow.' Who can say now in these sad and confused times what that world will be? And yet, approaching the grounds from the east end of Long Island, as I do, and seeing those buildings of strange and unusual arhitecture reaching toward the heavens, while behind them in the distance rise those huge massive structures of the great city, the product of generations, towering upward and all enveloped in the same haze and mist of the upper air, combining the past, present and future in one complete whole, I cannot but have a feeling of stability, that 'God's in His Heaven and all's right with the world.'
Even more do I feel this on entering the grounds, for these buildings wich I have seen growing for the past three years, as well as the trees and grass and shrubbery, have at last taken a definite form and become a reality- a fact which had seemed to me impossible, for I had passed and repassed those meadows, swampy and ill-smelling, for twenty-eight years and felt that surely nothing beautiful could be built there.
But Art and Science have collaborated and things we have only dreamed of in the past are here shown in reality. Man-made lightining can be seen, snowstorms out of a clear sky, moving chairs travelling around in a building so visitors will not have to walk, a sphere two hundred geet in diameter seeming to revolve on jets of water, a fountain that sings. 'A FOuntain of the Atom' with electrons and protons dancing around a shaft of light, a 'Rocket Gun' by which passengers will be shot to the moon, rare orchids renewed every three days by plants flown from Venezuela, and a flight to Venus. Also there will be a display of many million dollars' worth of diamons, rubies, emeralds, and other gems, and there will be a human eye so large that visitors may enter it amd look out at the Fair as if the eye were doing the looking. Two hundred cows will be milked daily on a revolving platform. Another unusual feature will be an oil driller incomplete operation. The largest opal in the world will be on exhibition.
I shall not attempt to describe the many beautiful buildings housing the exhibits from all over the world. The publicity has been so complete and widespread both over the air and in the newspapers, that I fear I shall tell you many things you already know. However, I should like to mention especially how the World's Fair Commission is caring for the comfort of its guests.
They have tried to reduce the many weary feet to a minimum by paving the walks with a resilient asphalt which is 'easier' on the feet than concrete or wood.
Almost every building has its own lounge and rest rooms and all buildings are air-conditioned.
Thousands of trees, many of them nearly a hundred feet high, have been planted to afford ample shade for the fifty thousand seats along the miles of walks.
Then, three means of transportation on the Fair grounds themselves have been instituted, First, there are one hundred stream-lined busses, with side seats, which travel over a prescribed route of ten miles, at a charge of ten cents. Next there are 'tractor trains' consisting of a gasoline driven tractor which draws a string of three or four canopy-covered cars. Fares on these cars will be twenty-five cents for adults and fifteen cents for children. The third type of transportation is the electric and hand-operated chairs. These are unrestricted as to route and will go anywhere the passenger desires. In fact, they are the 'taxis' of the Fair. They are called 'Motoguide Chairs' and 'Guide Chairs,' the former seating three and the latter two passengers. Twelve hundred college boys will operate these chairs and also act as guides. The rate will be twenty five cents per seat for fifteen minutes, which means that this is the most expensive way of seeing the Fair, but by far the most comfortable.
There will be ten First Aid stations with a hundred nurses and a corps of physicians in attendance.
As for food, there will be eighty restaurants of all sizes and one may dine in any language he chooses, as sixty foreign nations are exhibiting and many have their own restaurants.
It is estimated that one hundred and twenty million sandwiches and thirty million frankfurters will be consumed at the fair.
Realizing their great responsibility, when numbers of people from all conditions of life come together, the various Welfare Organizations of New York City and Queens County hav ecombined their forces into one unit for taking care of all unfortunate visitors. These may be lost children, a person who has lost his money or has been robbed and suddenly finds himself without funds, all runaways to the Fair, any unfortunate girls, and similar cases.
The feminine highlights at the Fair will be the Hall of Fashion, Cosmetics Building, Children's World, Home BUilding Center, Gas Exhibits Building, Food Building, Gardens on Parade, and best of all the World's Fair Music Hall where will be seen and heard the finest in music and drama. There will be opera and swing, Mozart and Kahn, Flagstad, Stokowski and Goodman.
The landscaping of the Fair is truly wonderful, for it is one large, beautiful garden covering twelve hundred and sixteen acres. Never in any other Fair have such quantities of flowering plants been used, for a million tulips given by the Holland Government, a million and a half spring budded plants, thousands of pansies as well as many hedge plants and tenthousand trees have already been planted. And when the Fair is over, the buildings will be torn down and New York City will keep the grounds as a permanent public park.
I must mention before closing the veautiful fountains, lakes, and pools, each with its own particular electric display.
On opening night, April 30th, the World's Fair Corporation promises the most unusual spectacle and demonstration that the world has ever seen. The Cosmic Ray will produce a brilliant light and a bell0like sound will be heard for twenty miles. Eminent scientists and organizations are in charge and Dr. Einstein will personally direct this demonstration. Collaborating with them willbe many famous engineers to make the whole display an extravaganza of light, sound, and color.
And now just a word as to the cost of the Fair. The latest estimate is one hundred and fifty-five millions. Of this fifty millions is borne by the Corporation. The remainder is divided thus: The United States Government, $3, 500, 000; New York State, $6, 500, 000; New York City, $20, 000,000; with states, territories, foreign governments, and exhibitors carrying the rest.
I think of so many more things I should hav etold you, but I urge you all to come and see for yourselves what a wonderful Fair it is and by all means get in touch with me."
July 1939 Alumnae Quarterly:

Daisy Murphy Matthews was in charge of a Festival Bazaar and Supper on June 9, at which she hoped to clear two thousand dollars, so she was kept at home.
Fall 1950 Alumnae Quarterly:

We mourn the death of Daisy Murphy Matthews, who passed away on August 9, 1950.
Last Updated 10/14/99.
Copyright 1999.