Jane Austen Collection
Translations
---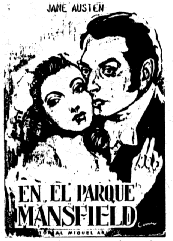 The Collection contains eighty-seven volumes of the novels in translation, with such titles as Sensible Amore, Sangul Azul and Ylpeys ja Ennolso-Luulo. The most popular language is Italian, with twenty-eight entries. Sixteen other languages are represented, from French and Spanish to Flemish and Chinese.
The Burkes first attempted to specialize in versions of Pride and Prejudice but soon moved to acquire most of the other novels as well during the course of their travels. Although Jane Austen's work was first translated, into French, in 1813, all of the Goucher editions were published in the twentieth century. Many are in paperback and colorfully illustrate international perceptions of the characters.
Visitors to the Collection sometimes send us copies from their home countries and we are always grateful for such gifts.

---
Table of Contents || Earliest Editions || Critical and Biographical Materials