Comments from Linda Fowble.....
Barbara Simons retired in the fall of 2000. I would like to dedicate this page to Barbara as a tribute to her energy and enthusiasm for a project which she began knowing that her retirement was quickly approaching and that she would leave before the project came to fruition. It was a pleasure to work with Barbara as her excitement for all library collections was very contagious. Thank you Barbara for your support.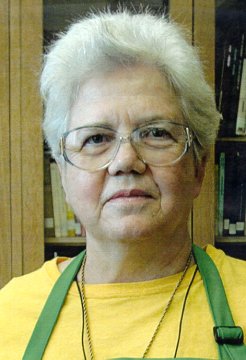 In April of 2000, Barbara and I wrote a proposal titled "Unveiling Hidden Treasures" for a Strategic Initiative Grant at Goucher College with the intent of preserving special collections from the Julia Rogers Library. This grant was awarded in April which enabled us to purchase special equipment (i.e. art scanner, high end digital camera, light stand, and slide scanner) that would not be available through the yearly library budget. We were then able to move forward with this effort.
We are very grateful for this opportunity and for the College's efforts in recognizing the need for community-based innovations. It was our pleasure to be included in this round of selected projects. Our thanks to William Fox and all members of the Strategic Innovations and Planning Committee! We also appreciate the support given to us by Nancy Magnuson, college librarian.
The summer of 2000 was spent investigating, purchasing, setting-up and learning the various equipment needed to immortalize items that have varied characteristics. We experimented with scanning glass biology slides, assorted items from the Jane Austen collection and with photographing 3-D items of all kinds including costumes. One of the most successful efforts was scanning the political buttons and ribbons found in this collection. We made decisions based on these trials as to the projects that would be tackled in the upcoming semester.
Students working in my area came back in the fall with their usual enthusiasm for learning new equipment and skills. New students were also hired who exhibited advanced HTML programming abilities. They have all done individual as well as team related projects throughout the year in the effort to preserve materials from the archives and special collections.
Several projects were completed this year using the newly acquired equipment. For instance, Rebecca "Squirt" Letsome (class of 2002) scanned an entire collection of postcards related to Jane Austen that had been hidden away in boxes for years. Squirt worked very hard to come up with an HTML script that would best display this collection which is now exhibited on the library page for all to peruse.
Stephanie Creech (class of 2002) has worked very diligently scanning the Friends of the Library newsletters for archival searching purposes. Stephanie exhibited extreme patience in correcting and displaying every detail of this lengthy project. Stephanie extended her HTML knowledge by learning FLASH which animated her introduction.
Chris King-Gates (class of 2003) and Phong Le (class of 2003) headed a team to scan the 22 boards of buttons contained in the Winslow collection. They experimented with our original scanner and then rescanned all images on the new art scanner as the quality of the image vastly improved with this new purchase. They experimented with different methods using all sorts of cloth to cover the buttons for the best display of detail. They both worked diligently to complete this task with the best possible image of each button.
John Wu (class of 2004)and Adam Hill (class of 2004) joined our group in the fall with exemplary skills in HTML. John and Adam spent much of their time in the fall with the newly acquired slide scanner teaching the skill and preserving slides from many sources.
In the spring of 2001, all the students came together for the purpose of designing the Winslow page--each contributing some factor in the page you are currently viewing. This was a very rewarding process and one that all of us found enlightening. My sincere thanks to all of the students for working very hard to bring this project into the public domain without destroying the originals.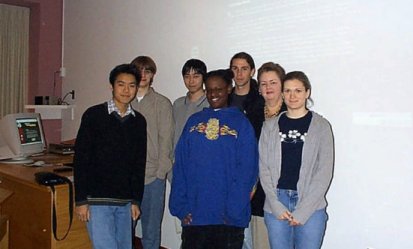 back row, left to right: Adam, John, Chris, Linda
front row, left to right: Phong, Squirt, Stephanie
The project continues with Chris photographing very fragile scrapbooks from the Jane Austen Collection and Stephanie and Squirt posting the first issue of the DonneybrookFair, Goucher's first yearbook. The money from this grant has preserved and will keep on preserving many collections for researchers and the interested public in the years to come without destroying the valuable originals.
Thanks also to Sydney Roby for allowing us access to these collections in the archives. We frequent the archives on many occasions with Sydney's guidance. Sydney and Margaret Guccione served on the committee reviewing the web design for Winslow. We appreciate their input and suggestions which helped us meet our goals.
Lastly, thank you to Ruthanne Winslow Baldwin, daughter of Clinton Ivan Winslow and veteran volunteer for the library, who supplied background materials for this project. We hope that she will enjoy the contents on line in the near future!